So simple but so yummy!
These vegan rice paper rolls are packed full of fresh veggies and you can dip them in the best peanut sauce you have ever tasted!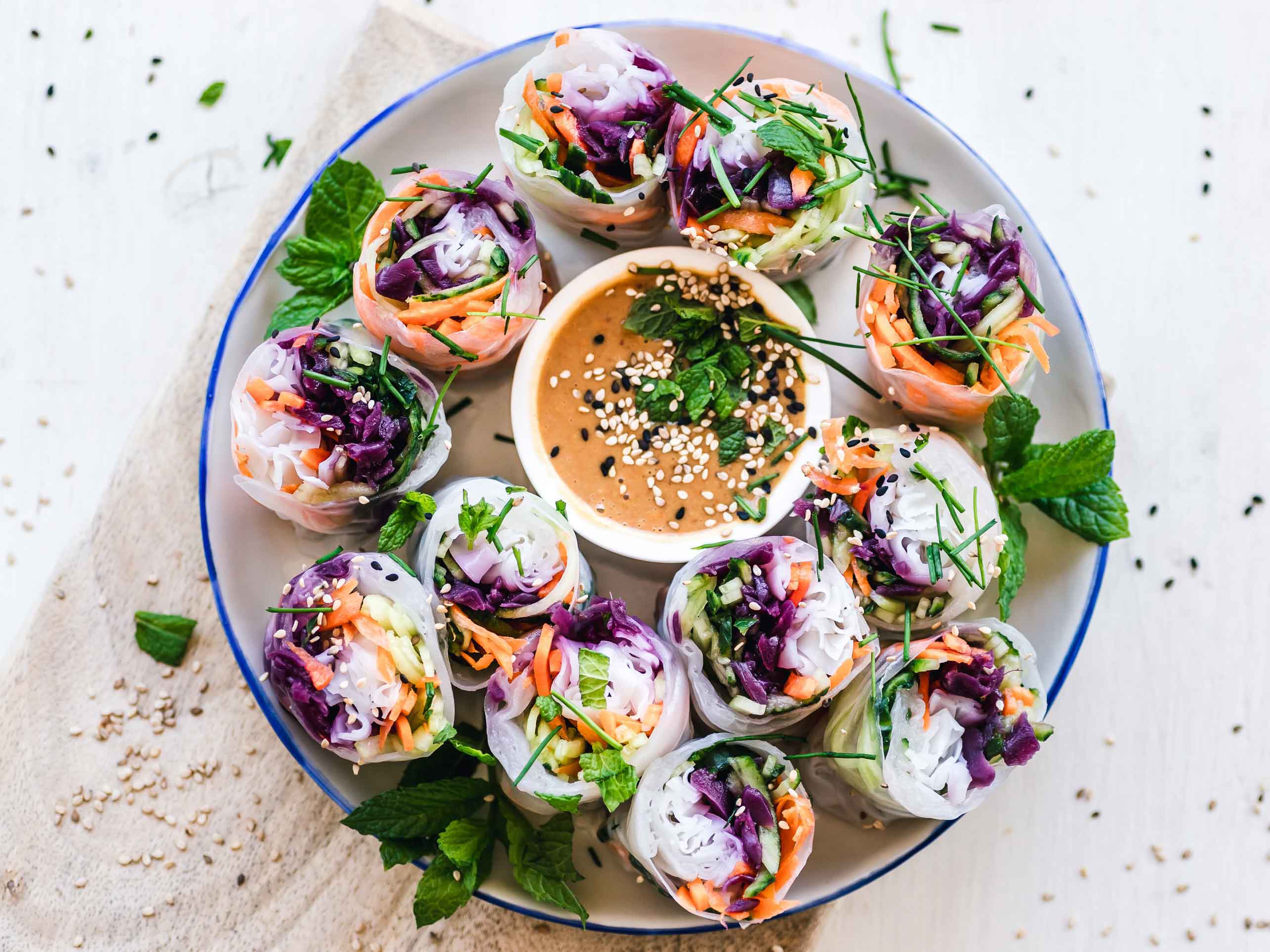 You can make these if you are in a rush or just as an evening, lunch snack. Whatever you fancy. But believe us when we say - You won't be disappointed! 
This is a perfect summer meal when the days are so hot you only crave something fresh but still fulfilling. 
Now, let's get started. Firstly, working with rice paper can be a little bit tricky if you are newbie. But don't worry we have a few tips for you and you'll be rice paper master in no time.
1. If you open the rice paper package you will notice that those sheets are actually crispy! 
2. You will need to soak them in warm water first for about 20 seconds. But don't 
over-soak them, because they will start falling apart and you don't want to under-soak them because you won't be able to work with them. 
3. Place the soaked rice papers onto some surface (wooden cutting board works the best) 
4. When you are ready to staff them, remember that less is more. It may seem like you need more but trust us when we say this. 
5. Roll them like a small burrito and ta daa!  All done and ready
Vegan Rice Paper Rolls with Spicy Peanut Sauce 
Prep time 40 min.
Total time 40 min.
Servings 12 rolls
Ingredients for rice paper rolls 
12 pieces rice papers 
2 cups spinach 
1 cup carrots or 2 large carrots, julienned 
1 cup of cucumber, julienned
1/2 head purple cabbage thinly sliced 
1 small of package rice noodles
12 large mint leaves 
black sesame seeds (optional)
Ingredients for spicy peanut sauce
1/2 cup peanut butter chunky or smooth* 
1/4 cup low-sodium soy sauce or tamari 
2 tbsp sesame oil2 cloves garlic peeled 
1/2 inch fresh ginger skin removed 
1 jalapeño 
1 tbsp sriracha 
1/4-1/2 cup water as needed
Instructions 
1. Add peanut butter, soy sauce, sesame oil, garlic, ginger, jalapeño and sriracha to a blender or food processor. 
2.  Blend on high, adding water as needed, until smooth and desired consistency is reached.  
3. Transfer to an airtight container and place in the fridge until ready to use. **Use within 5-7 days.

4. Prepare your veggies and place them on a separate plate or cutting board. 
5. Add luke warm water to a large plate (large enough for rice paper to lay flat in). 
6.  Place one piece of rice paper in the warm water and allow to soften (approx. 20 seconds). 
7. Remove from the water and place on a clean cutting board and start layering softened rice paper with spinach, carrots, cucumbers, cabbage rice noodles and mint- being sure not to over-stuff.Roll up like a burrito and place on a clean plate. 
8.  Repeat with remaining ingredients, you can sprinkle some black sesame seed on top

9. Dip it in your peanut butter sauce and Enjoy!